Moss & Barnett advises on both public and private construction projects, from design and planning to contract negotiation, preparation, bidding and review, construction, surety/bond issues, and insurance coverage and claims. We handle jury trials, bench trials, arbitrations, and administrative trials to bring disputes to conclusion.
We counsel a full range of construction industry participants – including owners, architects, engineers, contractors, material suppliers, and subcontractors – on dispute avoidance and resolution as well as resolving issues with regulatory authorities, including OSHA and licensing boards.
Private Contract Negotiation
We help our clients understand and negotiate complex construction contracts, including issues regarding payment, insurance, indemnification, schedule, and claims.
Public Contract Procurement
Our lawyers counsel clients who are competitively bidding or responding to requests for proposals on public projects. We have successfully challenged public contract letting on competitively bid and "best value" procurements when the public authority did not follow the rules.
OSHA and Regulatory Citations
We defend clients facing citations from the U.S. Occupational Safety and Health Administration (OSHA), Minnesota OSHA, the U.S. Environmental Protection Agency (EPA), and state and local departments of health in addition to citations and fines levied by other government entities.
Construction Claims
We advise clients on properly documenting, defending, and making claims for delay, disruption, and extras.
Construction Defects
Our lawyers represent owners, design professionals, contractors, and subcontractors on construction defect claims, including both residential and commercial construction.
Mechanic's Liens and Payment Bond Claims
We help ensure that our clients will be paid for their work by filing and prosecuting mechanic's lien and payment bond claims. We also protect our owner clients from being forced to pay twice when a contractor or subcontractor defaults.
Experience
Experience
Payment claims by subcontractors following destruction of affordable housing project. Assisting subcontractors in getting paid for their work that was performed on an affordable housing project that was destroyed during recent civil unrest in Minneapolis, Minnesota, and assisting on recovering extra costs during the project's rebuild.
Impact of COVID-19 on construction projects. Assisting construction industry clients with all aspects of their business impacted by the COVID-19 pandemic. Just about every construction project is being disrupted by the pandemic. Material deliveries are delayed which, in turn, impacts construction progress. Some contractors have had crews missing because of exposures, illnesses, quarantines, and work stoppages. Any delay by a prior trade craft impacts the next trade craft.
Pausing of high profile construction projects during COVID-19. Representing both an architectural firm and many contractors who are working on construction projects that were paused during the COVID-19 pandemic. Many project owners have temporarily stopped construction projects for unknown durations because of disruptions to financing or revenue/income reductions. The project owners have also "paused" paying contractors, so we are enforcing mechanic's lien, payment bond, and other payment rights and remedies.
Defending against OSHA citations. Advising contractors and subcontractors in Minnesota, North Dakota, and elsewhere in defending against state and federal OSHA citations, including fatality and serious injury cases. We have obtained outright dismissal of OSHA citations in many cases.
Public contract bid protests. Representing clients in numerous bid protests in Minnesota, North Dakota, and Wisconsin, including the largest successful bid protest in Minnesota history related to a light rail project. Our construction litigation team also recently convinced Hennepin County to withdraw an $18 million award on a "best value" procurement based solely on our bid protest letter.
Construction defect claims. Handled numerous construction defect claims, including obtaining an $800,000 jury verdict for construction defects on a large Lake Minnetonka home.
Interstate 35W bridge collapse litigation. Represented the Minnesota Department of Transportation, in association with the Minnesota Attorney General's Office, in litigation arising from the I-35W bridge collapse. We assisted in defending the state in the bridge collapse litigation as well as prosecuting the state's claims for reimbursement of amounts paid to settle claims.
$10 million mechanic's lien and bankruptcy litigation. Represented multiple clients who had not been paid an amount in excess of $10 million with regard to an iron ore processing plant in northern Minnesota in both mechanic's lien litigation and in the bankruptcy.
Multimillion-dollar claims in skyscraper office project. Represented an LLC in both bringing and defending multimillion-dollar claims arising from a skyscraper office project in Milwaukee, Wisconsin.
Government relations and lobbying. Represented the Minnesota Subcontractors Association (MSA) in lobbying the Minnesota Legislature to pass important legislation for the construction industry, including the "Contractor's Bill of Rights" and amendments to the Minnesota Anti-Indemnity Act.
Long-time representation of nonprofit organization. Representing one of the nation's leading nonprofit organizations in numerous construction projects, including contract negotiation and dispute resolution.
Learn More About Our Construction Law Practice
Contractor Wins Jury Trial Against Faribault County, as Public Owner, and Recovers Entire Contract Balance and Defeats Multi-Million Dollar Performance Bond Claim
On May 5, 2022, Moss & Barnett client, Northern Lines Contracting, Inc. (Contractor), secured a jury verdict from a Faribault County jury in its favor to recover every penny of every dollar sought in a multi-year dispute with Faribault County (County), as public owner. At trial, Contractor also defeated a $3.0+ Million performance bond claim brought by the County. Moss & Barnett congratulates Northern Lines Contracting, Inc. for this jury verdict result, and also congratulates Aaron Dean and Jeff Wieland, co-chairs of Moss & Barnett 's Construction Law team, who handled the case on behalf of Contractor.
The jury verdict was issued five years to the day from Contractor's submission of its $2.866 Bid Proposal to the County, as public owner, under a unit price contract to construct a drainage system comprised of more than 33,000 linear feet of drain tile at various depths and excavating more than 228,000 cubic yards of soil to construct a trapezoidal ditch to drain water from farmers' fields in and near Blue Earth, Minnesota. The drainage ditch project was designed by an Engineering Firm hired by the County, and the County's Engineering Firm and County Drainage Authority Manager administered the construction contract performed by Contractor.
On December 23, 2018, Contractor achieved Substantial Completion of the drainage project. Moss & Barnett was involved with ensuring Contractor was paid in 2018 during the construction project, objecting to several punch lists in 2018, and obtaining the Certificate of Substantial Completion in order for the Contractor to avoid $2,500 per day liquidated damages starting January 1, 2019.
After Substantial Completion was achieved, the County and its Engineer issued additional punch lists and demanded that Contractor perform out-of-scope work without paying the Contractor for the extra work. After Substantial Completion was achieved, the County and its Engineer asserted claims against the Contractor that the Contractor's work caused farmers' fields to flood. The County refused to pay an approximate $398,000 Contract Balance to Contractor.
At trial, Contractor showed that the County demanded Contractor perform "punch list" work that was identical to flooding conditions that the County sought FEMA federal disaster relief funding as a result of torrential storms in June 2018 during the middle of the construction project.
After not paying Contractor in full, the County terminated Contractor, the County asserted a Performance Bond claim, the County spent almost $2.0 Million to rip out and replace Contractor's work, and the County alleged that it was entitled to more than $3.0 Million under its Performance Bond claim.
A jury trial commenced on April 19, 2022. The focal points of the trial were establishing that Contractor completed all work in accord with the County's design and explaining that there were flaws in the County's drainage system design. Contractor alleged that the County impliedly warranted the adequacy of the design and that if the design was deficient, then Contractor was not responsible pursuant to the doctrine established by the United States Supreme Court in United States v. Spearin, 248 U.S. 132 (1918).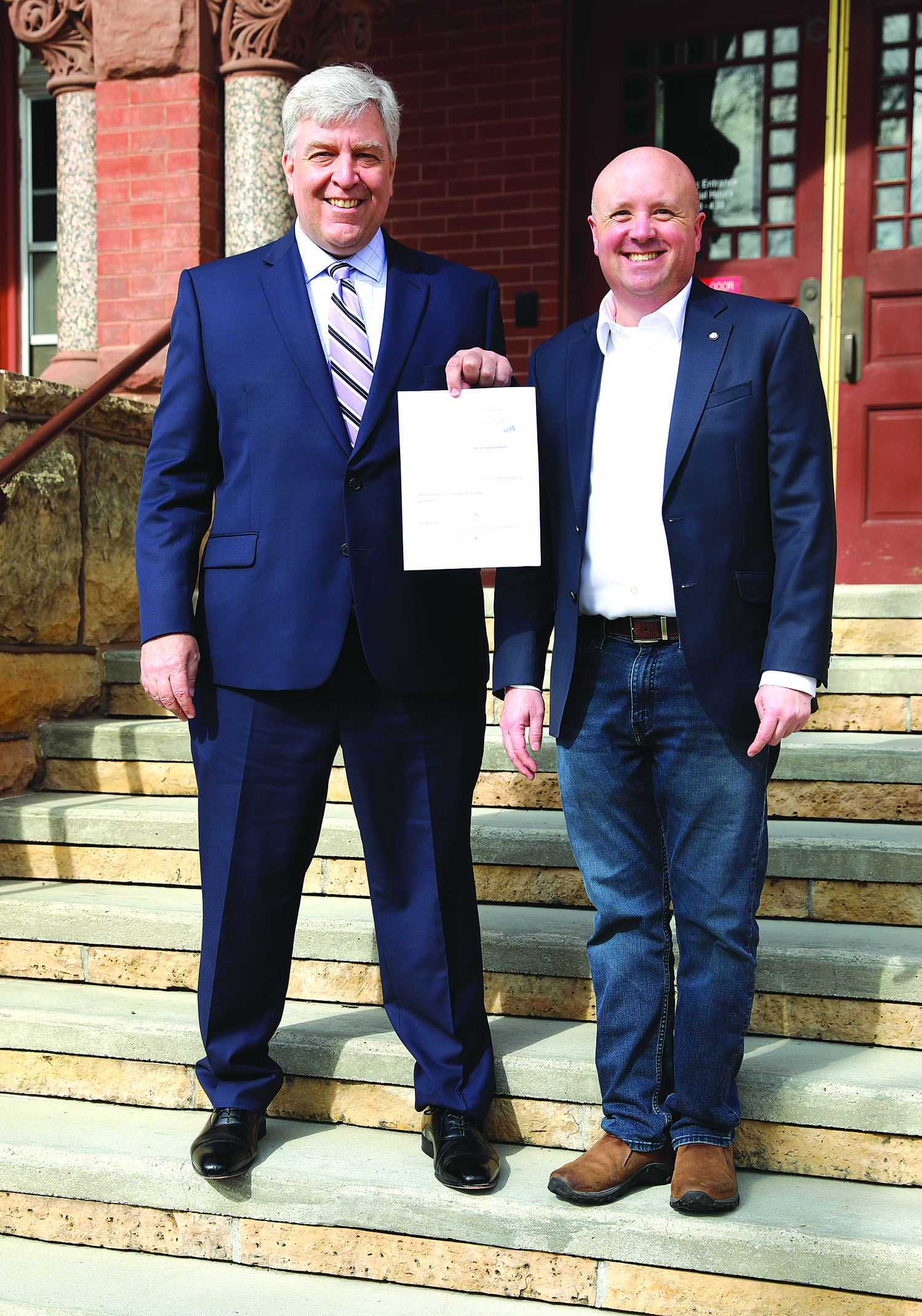 After seven days of testimony, with about 20 witnesses and approximately 200 exhibits, the jury hearing the case reached a verdict that the County breached its contract with Contractor causing $397,987 of damages, which was the total amount of dollars sought by Contractor, and that the County had the obligation to pay Contractor on January 25, 2019. The jury also rejected $2,662,000 of the County's alleged damages, and the County's Performance Bond claim was dismissed. Contractor is now seeking 18% interest, plus costs, and a net judgment in favor of Contractor. As a result of the jury verdict, Contractor will be able to use the trial's judicial findings to explain to other public owners that the County's termination of Contractor was wrongful.
Bottom Line: Contractors who need help enforcing their contract and statutory payment remedies should contact Moss & Barnett construction law lawyers Aaron Dean and Jeff Wieland.


Aaron Dean and Jeff Wieland outside the Faribault County Courthouse holding the jury verdict
(Photo Courtesy of Faribault County Register)
Clients
While we primarily represent large and small contractors, suppliers, and subcontractors, we also represent private owners and design professionals, which gives us a broad perspective on the construction industry. We serve construction law clients throughout Minnesota, Wisconsin, North Dakota, South Dakota, and Iowa.
General Contractors. We represent large and small general contractors with respect to both commercial and residential construction. Our clients include vertical (building) and horizontal (bridges and roads) contractors who perform both public and private construction. We advise on contract negotiation, claim prosecution and defense, and payment disputes.
Subcontractors. We represent subcontractors from all trades and of all sizes in contract negotiations, insurance coverage issues, claim prosecution, and payment disputes.
Suppliers. Material suppliers have unique needs and problems. We advise suppliers on how to protect their payment rights and address their unique insurance and liability issues.
Owners. We advise owners of all sizes – from families looking to construct their dream home to large, institutional property owners and developers across a full range of industries. We provide counsel regarding contract provisions, payment procedures, quality assurance, and schedule and defect claims to assure they get everything for which they paid. We do not represent public owners.
Design Professionals. We understand the unique role the design professional plays in a construction project, whether it is a traditional design-bid-build or a design-build project. We counsel design professionals regarding the unique and demanding contract requirements they encounter in contracts with owners and design-builders. We represent them in negotiating contract requirements and, when necessary, defend claims made against them.