Aaron A. Dean Receives Minnesota Subcontractors Association's 2017 "Champions Award"
03.09.2018
Moss & Barnett is pleased to announce that Aaron A. Dean received the Minnesota Subcontractors Association's 2017 "Champions Award" at its Annual T.O.P.S. Awards Dinner held on January 23, 2018. Eight years ago, the Minnesota Subcontractors Association (MSA) decided to recognize special individual members for their long-term work to enhance the business environment for subcontractors and for outstanding contributions to MSA. Moss & Barnett attorney, Curtis D. Smith, was the first recipient of the MSA Champions Award in 2010.
"Aaron has selflessly given so much time to make the Minnesota construction industry fair, transparent, and equitable," said David Bruneau, Executive Director of MSA." "We have seen Aaron in action and are grateful and honored to have him on our team."
Aaron is a member of the firm's construction law and litigation teams. His 20-year legal career spans all facets of the construction industry. He has a contractor-side construction law practice, representing general contractors, subcontractors, and suppliers. In addition to his role as legal advisor, Aaron is a sought-after construction industry thought leader, speaking frequently at key trade events on timely construction topics and serving as an instructor for national and local contractor trade groups.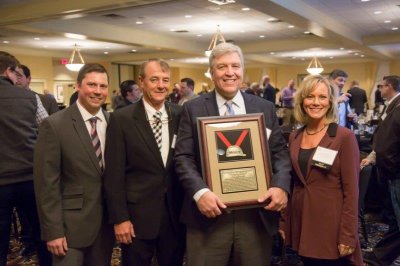 From left to right: David Bruneau, Executive Director of Minnesota Subcontractors Association, John Lloyd of Lloyd's Construction Services, Aaron Dean, and Donna Gulden of Homeco Insulation
Related Materials: