Aaron's almost 30-year legal career spans all facets of the construction industry. In his contractor-side construction law practice, he represents general contractors, subcontractors, and suppliers. In his role as legal advisor, Aaron has formed long-term partnerships with contractors, subcontractors, suppliers, owners, design professionals, and lenders.
Aaron's areas of focus include:
Defending construction defect claims
Assisting to close out contracts
Prosecuting payment claims via change orders, claims, and statutory claims for mechanic's liens, payment bonds, and prompt payment
Contract drafting and negotiations for contractors
Obtaining insurance coverage for contractors
Bidding disputes and bid mistakes
Bid protests on government contracts, both competitively bid projects and "best value" projects
Regulatory compliance for contractors, including handling investigations by the federal and state governments
Defending OSHA citations, MSHA citations, EPA citations, Department of Health citations, and citations/fines issued by other governmental regulators
Defending or pursuing False Claims Act claims
DBE enforcement
Aaron has handled more than 100 OSHA investigations and cases for contractors in Minnesota, Iowa, North Dakota, and Colorado.
He is a sought-after construction industry thought leader, speaking frequently at key trade events on timely construction topics and serving as an instructor for national and local contractor trade groups.
Prior to practicing law, Aaron was a law clerk for the Honorable David S. Doty and the Honorable James M. Rosenbaum, both U.S. district court judges for the District of Minnesota.
Experience
Procurement
Represented contractors in dozens of bid protests in Minnesota, North Dakota, and Wisconsin. Represented contractors and government vendors in administrative and judicial protests on competitive bid and "best value" procurements.

Raytheon, Ames, Kraemer v. MnDOT. Represented contractor joint venture in the largest successful bid protest in Minnesota history related to the Hiawatha Light Rail project.

Represented DBE Contractor in an administrative contested case hearing following MnDOT's first-ever attempt to decertify a DBE company. Stopped decertification.

Represented contractors in bid mistake cases to seek relief from contract awards and obtain the return of bid bonds.
Mechanic's Lien Foreclosure
Foreclosed hundreds of mechanic's liens on commercial and residential projects in Minnesota, Wisconsin, and North Dakota.
McCarron's Building Center v. Titus Construction, lnc., A09-1571 (Minn. Ct. App., June 15, 2010) (unpublished). Represented lumber supplier on appeal. Established priority of lumber supplier's mechanic's lien over bank's mortgage and allowed lumber supplier's blanket lien to be foreclosed on less than all condominium units without apportionment.
Eischen Cabinet v. Dan Happe Construction, et al., A08-1016 (Minn. Ct. App., May 19, 2009) (unpublished). Represented material supplier. Affirmed judgment in favor of mechanic's lien claimants and against lender regarding priority of various claims.
Stiglich Construction, Inc. v. Larson, 621 N.W.2d 801 (Minn. Ct. App. 2001). Represented contractor on appeal. Contractor did not waive right to seek attorneys' fees by prosecuting mechanic's lien and breach of contract claims in arbitration.
Woodside 5 Partnership, LLC, et al. v. Interspace-West, Inc., et al., Court File No. AC99-14328 (Hon. Cara Lee Neville). Represented building owner. Obtained dismissal of mechanic's liens for failing to provide lienable services and intentionally overstating lien amounts.
Construction Defect
Defended construction defect claims asserted against general contractors, subcontractors, building materials suppliers, and window suppliers.
Washington County v. Knutson Construction Services Washington Cty. Dist. Ct.). Complete dismissal of county's $2+ million claim for alleged defects to repair the county's Law Enforcement Center.
Represented window supplier since 2000, including defense of construction defect and mold claims.
Transportation and Utility
Represented road and underground utility general contractors in disputes with public owners and developers, including prosecuting claims for differing site conditions and disputed change orders, defending termination claims, back charges, offsets, and deductive change order claims.
OSHA Defense Work
Defended general contractors and subcontractors in more than 300 federal OSHA, MNOSHA, and other State Plan cases in 22 States, including more than 30 fatality cases, multiple serious injury and amputation cases, and scores of non-injury cases.
Commissioner v. Acoustics Associates, Inc. (2021). Represented specialty subcontractor and obtained dismissal of fatality Citation issued under the General Duty Clause.
Following construction site fatalities, handled multiple Federal OSHA investigations in 2019 and 2020 resulting in no Citation being issued to contractor clients in North Dakota and Wisconsin.
In 2020 and 2021, obtained complete vacates of Citations issued by Federal OSHA, MnOSHA, and other State Plans in injury and non-injury cases for excavation and fall protection cases.
Commissioner v. John A. Dalsin & Son, Inc. (2017). Represented roofing subcontractor at trial. Complete dismissal of Citation.
Commissioner v. Lametti & Sons, Inc. (2014). Represented underground utility contractor. Obtained complete dismissal of MNOSHA Citations issued to contractor. Administrative law judge issued an order dismissing MNOSHA's complaint with prejudice, dismissing MNOSHA Citations in their entirety, and vacating all fines issued to a contractor; also issued pre-trial ruling dismissing all claims against the contractor.
Commissioner v. Michels Pipeline, Dockets 8389 and 8640 (2009). Obtained dismissal of Citations issued by MNOSHA following administrative contested case hearing based on employee misconduct defense. Dismissal of Citations affirmed on appeal. MNOSHA v. Michels Pipeline, 2010 WL 4679836 (Minnesota Office of Administrative Hearings, October 18, 2010).
Secretary of Labor v. Q3 Contracting, Inc. Obtained dismissal of federal OSHA Citations on appeal following contested case hearing in Colorado.
Obtained complete dismissal of fatality Citation for roofing subcontractor.
Obtained complete dismissal of "repeat" level fall protection Citation issued to general contractor/developer for safety violations committed by framing subcontractor.
Obtained severity level reductions and dismissals of Willful level Citations.
Obtained complete dismissal of Citations issued to general contractors under the Multi-Employer Doctrine.
Obtained dismissal of multiple Citations issued by Federal OSHA and multiple State Plans to temporary labor/staffing company at manufacturing facilities, where more than 1,000 temporary employees were working during an almost two-year lockout and in other long term lockouts.
Project Counseling and Dispute Mitigation
Counseled construction industry clients to help manage risks and try to avoid disputes while construction contracts were being performed.
Contract Drafting and Negotiations
Drafted and negotiated construction contracts, change orders, and settlement agreements for clients working on construction projects.
Appellate Work
Represented contractors and material suppliers on appeal after replacing their district court counsel.
Contractors Edge, Inc. v. City of Mankato, A11-916 (Minn. Ct. App., Jan. 17, 2012) (unpublished), denied(Minn., March 28, 2012). Represented contractor on appeal from summary judgment obtained by defendant municipality in district court.
McCarron's Building Center v. Titus Construction, Inc., A09-1571 (Minn. Ct. App., June 15, 2010) (unpublished). Represented lumber supplier on appeal and reversed district court ruling against building supplier.
Alternative Dispute Resolution
Mediated (as counsel for a party) more than 150 construction cases.
Represented public owners, general contractors, and subcontractors in binding arbitrations. Served as an arbitrator or represented parties in more than 40 arbitrations.
Defense of Contractor Payment Claims
Kraus-Anderson v. City of Chanhassen(Carver Cty. Dist. Ct., 2006). Bench trial. Successful defense of 98+ percent of contractor's claims against the city related to construction of a $5.1 million public library. De minimis award below settlement offer.
Credentials
Education
William Mitchell College of Law, St. J.D.; summa cum laude
Lafayette College, Easton, PA, B.A.
Admissions
Minnesota
North Dakota
Wisconsin
U.S. District Court for the District of Minnesota
U.S. Court of Appeals for the Eighth Circuit
Honors & Recognitions
Minnesota Super Lawyers (2003-2006, 2008-present)
Chartered Fellow, Construction Lawyers Society of America (2017-present)
Attorney of the Year, Minnesota Lawyer (2022)
Order of Maximus (100 or more cases tried to verdict, bench ruling, or arbitrated to decision), Construction Lawyers Society of America (2021)
Affiliations
Professional Associations
President (2014-2016), Member, Government Affairs Committee (2014-2015) Board member (2008-2015) Vice president (2013-2014) Treasurer (2012-2013) – Minnesota Subcontractors Association
Member, Board of Directors, Construction Financial Management (2013-2016)
Instructor of Supervisory Training Program (2014-2015) – Associated General Contractors of Minnesota
Safety Committee member, Associated Builders & Contractors Inc. Minnesota/North Dakota Chapter (2013-2015)
SMARCA of Minnesota North & South Dakota Inc.
Minnesota Asphalt Pavement Association
American Bar Association
Federal Bar Association
Council member (2013-2016), Chair (2011-2012), Vice-chair (2010-2011), Treasurer (2009-2010), Secretary (2008-2009) – Minnesota State Bar Association – Construction Law Section
ABA Forum on the Construction Industry
Member, Diversity Law Institute (2017-present)
Member, Trial Law Institute (2017-present)
Board Memberships
Former board member, Minnesota Board, American Subcontractors Association (2008-2012)
Alumni Board, William Mitchell College of Law (2003-2008)
Contractor Wins Jury Trial Against County, as Public Owner, and Recovers Entire Contract Balance and Defeats Multi-Million Dollar Performance Bond Claim
On May 5, 2022, Moss & Barnett client, Northern Lines Contracting, Inc. (Contractor), secured a jury verdict from a Faribault County jury in its favor to recover every penny of every dollar sought in a multi-year dispute with Faribault County (County), as public owner. At trial, Contractor also defeated an approximate $3.0+ Million performance bond claim brought by the County. Moss & Barnett congratulates Northern Lines Contracting, Inc. for this jury verdict result, and also congratulates Aaron Dean and Jeff Wieland, co-chairs of Moss & Barnett 's Construction Law team, who handled the case on behalf of Contractor.
The jury verdict was issued five years to the day from Contractor's submission of its $2.866 Bid Proposal to the County, as public owner, under a unit price contract to construct a drainage system comprised of more than 33,000 linear feet of drain tile at various depths and excavating more than 228,000 cubic yards of soil to construct a trapezoidal ditch to drain water from farmers' fields in and near Blue Earth, Minnesota. The drainage ditch project was designed by an Engineering Firm hired by the County, and the County's Engineering Firm and County Drainage Authority Manager administered the construction contract performed by Contractor.
On December 23, 2018, Contractor achieved Substantial Completion of the drainage project. Moss & Barnett was involved with ensuring Contractor was paid in 2018 during the construction project, objecting to several punch lists in 2018, and obtaining the Certificate of Substantial Completion in order for the Contractor to avoid $2,500 daily liquidated damages starting January 1, 2019.
After Substantial Completion was achieved, the County and its Engineer issued additional punch lists and demanded that Contractor perform out-of-scope work without paying Contractor for the extra work. After Substantial Completion was achieved, the County and its Engineer asserted claims against Contractor that the Contractor's work caused farmers' fields to flood. The County refused to pay an approximate $398,000 Contract Balance to Contractor.
At trial, Contractor showed that the County demanded Contractor perform alleged "punch list" work to repair damaged areas of the project even though the County had sought FEMA federal disaster relief funding to repair these same areas following torrential storms in June 2018 during the middle of the construction project. The County told Contractor that Contractor's work was deficient in these areas while at the same time telling the federal government that storms damaged these areas.
After not paying Contractor in full, the County terminated Contractor, the County asserted a Performance Bond claim, the County spent almost $2.0 Million to rip out and replace Contractor's work and to make improvements (i.e., betterments) that Contractor was not hired to construct, and the County alleged that it was entitled to more than $3.0 Million under its Performance Bond claim. Contractor's owner would be personally liable for any amounts obtained by the County on a Performance Bond claim, so the jury trial carried extra importance to Contractor and its owner.
A jury trial commenced on April 19, 2022. The focal points of the trial were establishing that Contractor completed all work in accord with the County's design and explaining that there were flaws in the County's drainage system design. Contractor alleged that the County impliedly warranted the adequacy of the design and that if the design was deficient, then Contractor was not responsible pursuant to the doctrine established by the United States Supreme Court in United States v. Spearin, 248 U.S. 132 (1918).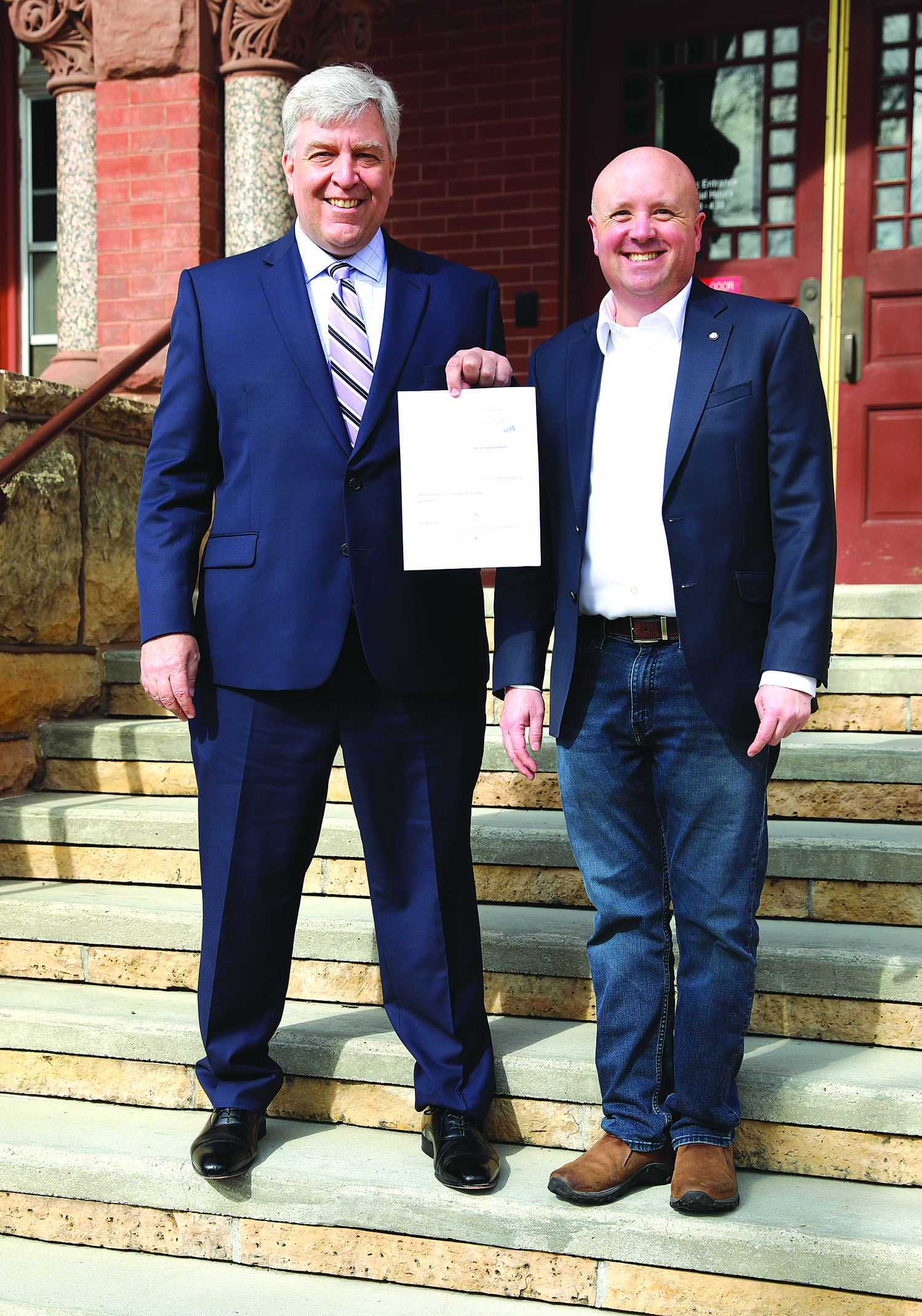 After seven days of testimony, and about 20 witnesses and approximately 200 exhibits, the jury hearing the case reached a verdict that the County breached its contract with Contractor causing $397,987 of damages, which was the total amount sought by Contractor, and that the County had the obligation to pay Contractor on January 25, 2019. The jury also rejected $2,662,000 of the County's alleged damages, and the County's Performance Bond claim was dismissed. Before submission of the case to the jury, the County dismissed its negligence claim against Contractor. Contractor is now seeking 18% interest, plus costs, and a net judgment in favor of Contractor. As a result of the jury verdict, Contractor will be able to use the trial's judicial findings to explain to other public owners that the County's termination of Contractor was wrongful.
Bottom Line: Contractors who need help enforcing their contract and statutory payment remedies should contact Moss & Barnett construction law lawyers Aaron Dean at Aaron.Dean@lawmoss.com and Jeff Wieland at Jeff.Wieland@lawmoss.com.
Aaron Dean and Jeff Wieland outside the Faribault County Courthouse holding the jury verdict
(Photo Courtesy of Faribault County Register)