Elizabeth ("Betsy") Kiernat Selected to Twin Cities Business Notable Women in Banking & Finance (2022)
Twin Cities Business (April edition)
04.13.2022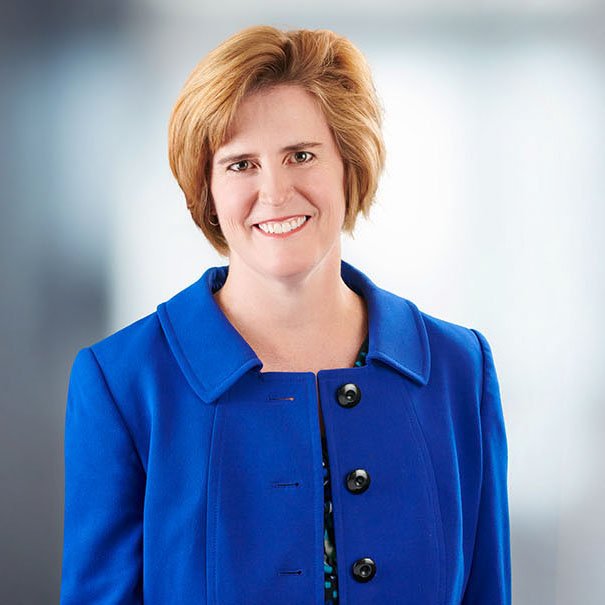 Moss & Barnett is pleased to congratulate Elizabeth ("Betsy") Kiernat on her selection to the Twin Cities Business Notable Women in Banking & Finance (2022) series. The "Notables" are nominated by their peers at work and in the community for their abilities to effect change, share expertise, and exhibit leadership at their organizations and industries. The Notable Women in Banking & Finance have set the standard for crunching numbers and leading their clients to sustainable company growth. They also take time outside the office to mentor students, working mothers, and young professionals in the industry. To qualify for this list, individuals must have at least five years of experience in their field and have shown the ability to effect change in their roles or areas of practice. The individuals featured did not pay to be included. Their profiles were drawn from nomination materials, and it includes only people who were nominated and accepted after editorial review.
As a lead lawyer on Moss & Barnett's commercial real estate finance team, Betsy utilizes her 20 years of experience representing lenders nationwide who originate and then sell mortgage loans to Freddie Mac, which loans are then further sold and securitized in the marketplace. Her practice focuses on lender representation in the origination, closing, sale, pooling, and servicing of loans under Freddie Mac's multifamily real estate programs.
Betsy's experience includes multifamily housing, manufactured housing, affordable housing, condominiums, multi-property pooled transactions, and securitized assumptions and transfers of interest. She provides lenders with guidance and management for the development, negotiation, and documentation of standard loans and unusual apartment financing, including transactions involving 1031 exchanges, ground leased properties, tenant in common structures, and mixed used projects.
Some of Betsy's recent finance experience in 2021 includes serving as lead lawyer in closing hundreds of Freddie Mac multifamily loans across the country involving billions of dollars on behalf of various mortgage lending clients and serving as lead lawyer for a Freddie Mac pooled transaction in excess of $400 million secured by 21 multifamily properties in seven different states.
Brian Grogan, Moss & Barnett's President and CEO, says "Betsy is a zealous and decisive advocate for her clients. They appreciate her extensive familiarity with Freddie Mac's multifamily products, and they depend on her to manage their transactions from start to finish while proactively addressing the legal, procedural, and business issues impacting each client. With her significant multifamily lending experience, Betsy brings a special confidence and insight to address the unique challenges in today's financial marketplace."
Betsy is a member of the Minnesota State Bar Association, Hennepin County Bar Association, and the Mortgage Bankers Association. Betsy has volunteered in a variety of ways for St. Olaf College, St. Paul Academy, Breck School, and Hopkins Park Girls Hockey Association to name just a few. In recognition of her community service work, she was awarded the firm's Paul Van Valkenburg Service Award.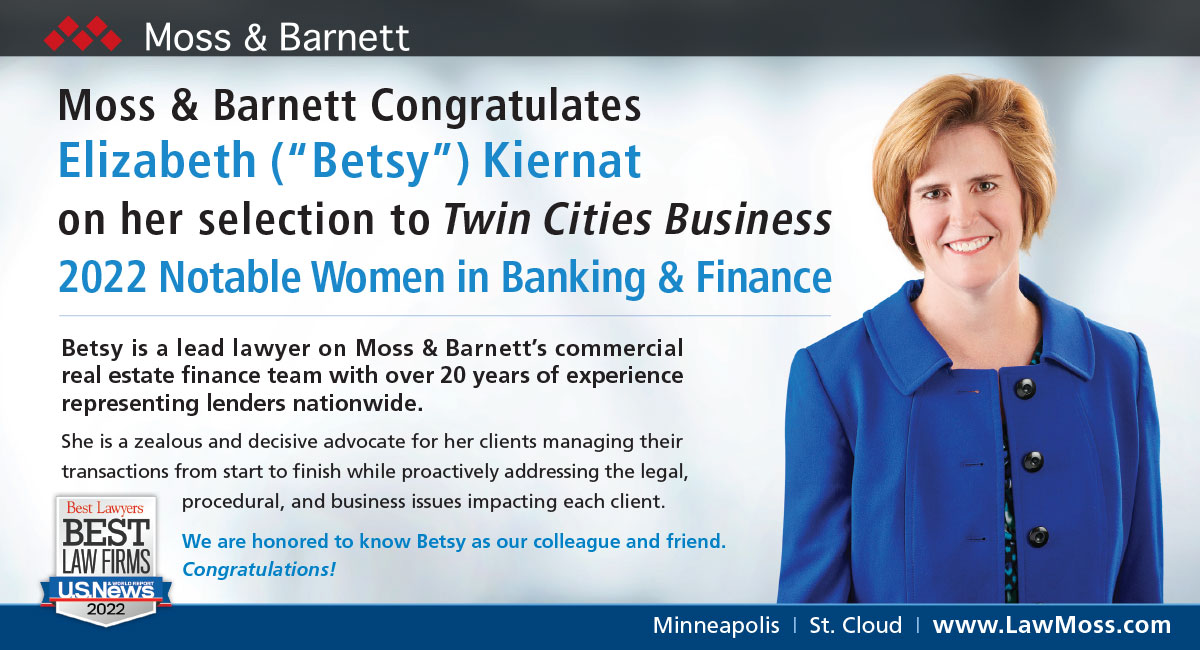 Related Materials: