Team Publications: The Debt Collection Drill and The Safe Harbor: Debt Collection Law Update by Aylix Jensen
Moss & Barnett Advocate (Spring 2022 edition)
05.13.2022
Communication is a key component of our direct style of representation and adds to our value proposition to our clients. Our lawyers are recognized as thought leaders, prominent speakers, commentators, and authors on platforms, venues, and publications across the nation and worldwide. Here are two publications we would like to highlight:
The Debt Collection Drill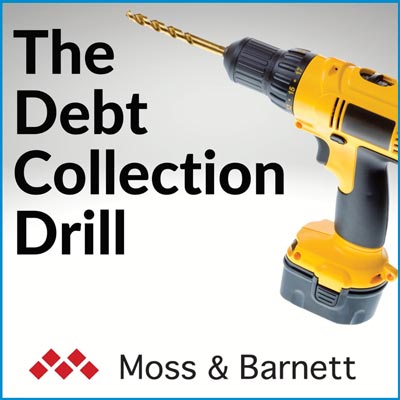 John Rossman and Mike Poncin have turned their long-running audio blog, The Debt Collection Drill, into a videocast series. John and Mike provide sage tips and ongoing intelligence for debt professionals. They review detailed tactics on emerging issues in the credit industry and provide their analysis and solutions to the challenges the collection industry faces daily. All video and audio from the The Debt Collection Drill is available on the Moss & Barnett website.
The new video series is also available on YouTube, and past episodes of The Debt Collection Drill audio blog can be found on Apple Podcasts.




The Safe Harbor: Debt Collection Law Update by Aylix Jensen

Aylix Jensen offers analysis and insights for the debt collection industry in her monthly newsletter, The Safe Harbor: Debt Collection Law Update by Aylix Jensen. This monthly newsletter provides an update of changes and developments in the law that impact the debt collection industry. It highlights new debt collection laws and practices, discusses what these may mean for the collection industry, and provides tips to ensure compliance. All editions of The Safe Harbor are found on our website.
We provide timely updates and analysis across all the legal disciplines in which we practice. Let us know what interests you by subscribing to our publications at LawMoss.com.
Related Materials: