Jana Aune Deach Selected to Twin Cities Business Notable Women in the Law (2020)
Twin Cities Business (October/November 2020 edition)
10.12.2020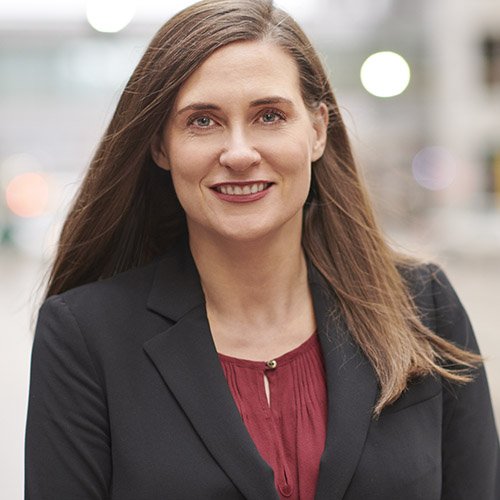 Moss & Barnett is pleased to congratulate Jana Aune Deach on her selection to the inaugural Twin Cities Business Notable Women in Law (2020) series. The "Notables" are nominated by their peers at work and in the community and are leaders, doers, and innovators respected by colleagues and distinguished by going the extra mile – mentoring, teaching, and volunteering – all while getting the job done at the highest level.
Jana is a nationally recognized family law practitioner who serves as a compassionate advocate for clients and their children. She provides effective counsel in all areas of family law, is a Rule 114 Qualified Neutral, and is certified in Family Law Mediation. In addition to practicing family law on a full-time basis, Jana serves on Moss & Barnett's Board of Directors; chairs the firm's family law practice group; supervises the firm's paralegals; chairs the firm's community outreach and philanthropic committee, M&B Cares; and serves as liaison for the firm's support of and work with Minnesota Women Lawyers.
Jana has been listed in Minnesota Super Lawyers since 2010 and, prior to 2010, was listed in Minnesota Super Lawyers/Rising Stars from 2005-2009. She has been listed in the Minnesota Super Lawyers "Top 50 Women" and "Top 100" lists since 2018. Jana has also been included in The Best Lawyers in America since 2014. She is a member of the American Bar Association, Minnesota State Bar Association, Hennepin County Bar Association – Family Law Section, Association of Family and Conciliation Courts, serving as the Minnesota Chapter President from 2016-2018, and the Douglas K. Amdahl Inn of Court. In her spare time, Jana is active in her community, including as a board member of GIVING WoMN and at her church, Mindekirken-The Norwegian Lutheran Memorial Church.
Brian Grogan, Moss & Barnett's President and CEO, says, "Jana's collaborative and open leadership style brings people together from all professional levels at the firm. She is approachable, passionate, positive, and decisive. She brings a special confidence and insight to address the unique challenges faced by law firms today. We are honored to know Jana as our colleague and friend."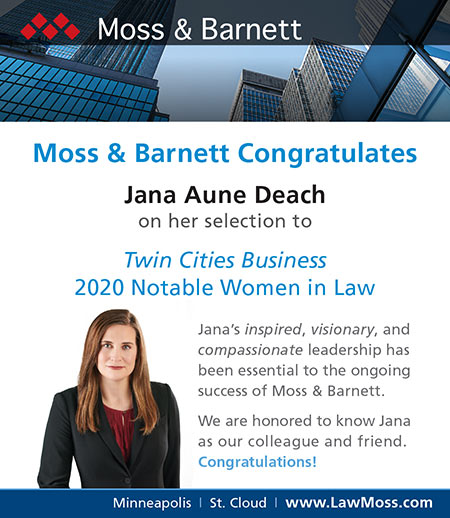 Related Materials: