Sarah Doerr, Aylix Jensen, and Moss & Barnett Are Pleased to be a Sponsor of 2021 Women in Consumer Finance
In Person at The Westin Kierland Resort and Spa in Scottsdale, Arizona (Dec. 6-8, 2021) or Online (Dec. 13-15, 2021)
12.06.2021
Event Sponsor: insideARM and The iA Institute
Sarah Doerr, Aylix Jensen, and Moss & Barnett are excited to be sponsoring 2021 Women in Consumer Finance (#WomeninConsumerFinance), the industry's fastest growing and most influential annual meet-up, where attendees build real relationships and re-envision careers.
NBD. Just hundreds of motivated, sharp finance professionals getting together and bringing out the best in everyone. Great careers don't just happen. Get the insight, reflection, advice, and perspective you need at Women in Consumer Finance.
The conference will be held in person on December 6-8, 2021, in Scottsdale, Arizona, and December 13-15, 2021, virtually. This is your chance to build confidence, make meaningful connections and accelerate your career.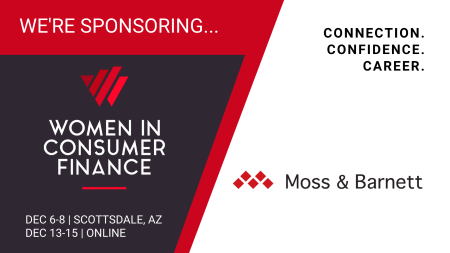 Resources: