We're Proud to Recognize Comstock Construction
Moss & Barnett Advocate (Fall 2020 edition)
12.15.2020
Comstock Construction began by straightening barns, after Clark Morrell Comstock decided to auction his farm and move to town. From those humble beginnings, Comstock Construction has remained a fourth generation, family-owned business, while growing to 125 employees and three locations in Fergus Falls, Minnesota, and Fargo and Wahpeton, North Dakota. From corporate office buildings to healthcare facilities and schools, Comstock Construction takes great pride in both their legacy and their bright future.
Recent notable projects include the North Dakota Heritage Center on the North Dakota State Capitol grounds, Bobcat expansion at their headquarters in Bismarck, North Dakota, and many primary school and university projects throughout Minnesota, North Dakota, and South Dakota. Not only have these projects made a significant positive impact in the communities in which they are developed, Comstock Construction has also been a leading regional employer with over 40% of their team employed a decade or more at the company.
Moss & Barnett is honored to serve as legal counsel to Comstock Construction and their exceptional leadership team.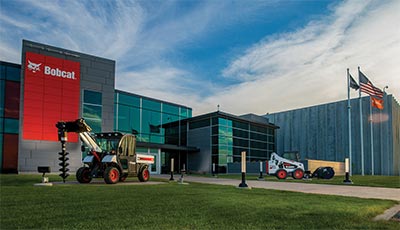 Bobcat Acceleration Center
Recently completed by Comstock Construction in Bismarck, ND, the 86,000 square foot space serves as the worldwide engineering hub for Bobcat's product development.
Related Materials: