Did You Know? Moss & Barnett Attorneys Are Available to Present at Events
08.22.2018
Moss & Barnett attorneys are available to speak at your company, association, trade organization, seminar, CLE, webcast, panel, or meeting on a whole host of topics involving legal issues. We would be pleased to collaborate with you in the design and presentation of almost any topic that you wish to address.
Examples of topics our attorneys presented over the past year include:
Internet neutrality
Accountants' best practices for avoiding claims
FTC enforcement actions
Beneficiary designations
2017 Tax Act
How your safety record impacts contracting opportunities
How utilities are bridging the digital divide
How contractors can ensure payment
Cybersecurity and risk management
OSHA on the jobsite
Regulatory challenges for the Internet of Things
Negotiating cable franchise agreements and renewals
Inception and operation of a small business
Becoming a better testifying expert
Issues with purchased judgments
Domestic violence and child custody
Local franchising
Click here to view all of our attorneys' various presentations.
The success of an event or meeting can largely depend on how effective and knowledgeable the presenter is. Let us help. Contact Deb Weinstock at Deb.Weinstock@lawmoss.com / 612‑877‑5424 if interested in having a Moss & Barnett attorney present at your upcoming event.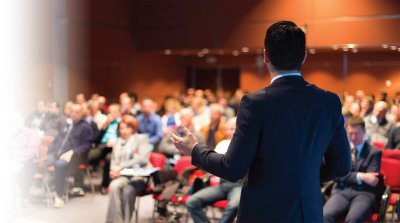 Related Materials: